Suggestions return with a four pack of ideas for the Fall.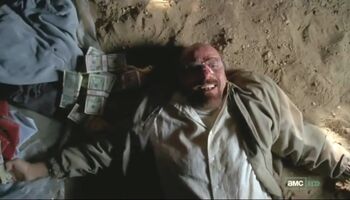 TV:
Breaking Bad.
If you have not watched this show it is now at the point where you are going to have to catch it on Netflix or DVD, or you will have missed a defining moment in American pop culture. This season is such a white knuckle thrill ride. No other television show can come close to the acting on Breaking Bad. My personal favorite part of the show is the cinematography, it's like another character that they use to help tell the story (i.e. the tomb/crawl space closing scene from last week). Gus has become one of the most terrifying and evil characters in television history. Walt is spiraling out of control, and the great part is knowing that the writers would never allow the story to end with everybody walking off into the sunset. One of the recurring themes of Breaking Bad is that choices have consequences that can be immediate or delayed. I can't wait to see what happens tomorrow night.
SPORTS:
Baseball Postseason.
We got a taste of how great baseball can still be on the last day of the season. Of course, the Astros played their first meaningful game in 5 months and promptly got blown out by the Cardinals. But the other 3 games with playoff implications were amazing. I'm sure the rest of you Astros fans have soured on baseball this season due to having to endure the nightly embarassment that your hometown team has provided, but if you love the game don't miss October. I'm pulling for a Tigers-Phillies World Series (I can't root for Texas, St. Louis, New York, or Milwaukee based on my hatred of all things evil......the Rangers play in Dallas and have a large section of Cowboys fans....sorry Nolan). Also, is there any way we could get Gus Johnson to spice up the World Series broadcast booth this year?
BLOGS:
The Sideline View.
Football fans visit
this site
and thank me later. The brain child of two of my favorite football analysts Lance Zierlein and John Harris, The Sideline View covers all things football (College, NFL, Draft, and Fantasy). They also added Adam Caplan as a contributor which means they've created a holy trinity of exhaustive football knowledge. The website looks great and more importantly it contains some of the best football analysis on the web. Whether you are looking for an edge in your fantasy football league, searching for tips before you place your "friendly" bets for the week, or just looking for analysis on your favorite team, The Sideline View is a website that all football fans will enjoy.
FOOD:
Peanut Butter.
As I get older I am becoming more like my Dad (he would often have a late night spoon of PB). Lately I have been craving this most delicious of foods. The other day on Twitter I proposed that George Washington Carver is probably the greatest American who ever lived. It seems as though I am not alone here as
@_Derec
and others quickly agreed. Really is there anything Peanut Butter doesn't make better? Bananas, Ice Cream, Bread, Crackers, even celery becomes edible by adding the creamy goodness of peanut butter. If we brought jars of PB to Congress I'm pretty sure that they could agree for once and solve our country's problems. To all of you with nut allergies: my condolences, you have unfairly missed the greatest and most versatile food that humans have ever developed.
Those are my suggestions for the week. Take 'em or leave 'em.