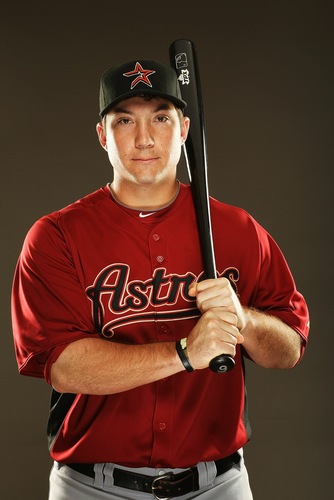 I have heard a lot of Astro-bashing going on in the weeks leading up to the 2011 season so in an effort to drum up support for the hometown 9 here are my top 5 reasons to tune in to the Stros this year.
5.
Brett Wallace
. The dude is mashing in spring training. I know, I know, that's like saying be sure to check out Transformers 3 because the 30 second preview with no acting or story lines looks AMAZING! But seriously, he is hitting over .350 and leading all ML in spring training RBI's. Wallace was a big time prospect when drafted and it should be fun to see if he can live up to at least some of those expectations.
4.
The new scoreboard
. Alright 2 reasons in and I am already reaching, but here is an actual conversation from earlier today. ME: "Give me your top reason to watch the Astros this year." BUDDY: "To see the new scoreboard'" Doesn't exactly make you want to go out and buy season tickets, but seeing Carlos Lee in 3 stories of HD should be mildly entertaining to say the least.
3.
Brett Myers
. This dude delivered in 2010. Count me among the doubters who will be looking for a slight drop off considering the sheer number of innings Myers chewed up last year, but it will be fun to see whether he had a career season or he has become a front of the rotation guy. Cautiously pessimistic.
2.
Drayton selling
. Like a produce sale at the grocery mart Drayton McLane has all of the sudden become VERY interested in a bargain. If you buy what Richard Justice and others are saying as of today it is nearly a done deal that Houston businessman Jim Crane will purchase the Stros. Consider me enthused. Drayton has owned this team during its most successful years, but he has also made some bone headed baseball decisions (Gerry Hunsicker). I think some new blood in ownership would be welcome by the Astros faithful.
1.
Youth Movement
. I've been begging for it for a few years now, and it seems as though the Astros are finally headed towards building this team back up through young players and the minor leagues. Sure losing Castro was a big blow early but we will still get to see Johnson, Wallace, Bourn, Pence, and by season's end, Jordan Lyles continuing to mature as ballplayers. Bud Norris could develop this year into a solid starter, and there are several more in the minors like Delino DeShields to watch closely.
Look, I love baseball and I love the Astros so I will be rooting them on as always. If this list doesn't excite you, then you can always heed the words of my wife, "At least there won't be that many people at the games this year." .........So there is that too.